Oil Change Service in Sheffield AL 35660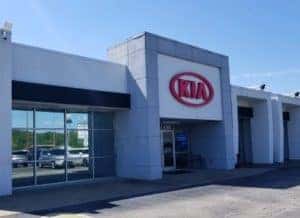 Getting My Oil Changed in Sheffield, AL 35660: Greenway KIA of the Shoals Regular oil changes help extend the life of your engine. For a fast express oil change in Sheffield, AL. Greenway KIA is here to help you get in and out fast. Stop by our oil and lube service center at 4109 N Jackson Hwy, Sheffield, AL 35660. We are located on the corner of N Jackson Hwy and Hatch Blvd in Sheffield. Each car has a different scheduled for an oil change, filter change and lube of the chassis. Check your owner manual or call us to see the recommend intervals for oil change scheduled for your car truck or SUV.
What Do The Different Motor Oil Weights Mean? The "W" means it is designed for Winter. In the early days of engines there were only single grade oils one for the winter and one for the summer. Over the years we began to see multiple grade oils for the more powerful and complex engines of today.
What Is The Difference Between Automotive Oil Weights? Your engine will work best when you are using the oil that was designed for your vehicle. Each engine will also use different oil weights. Make sure you have the correct oil for your vehicle. Simply check your owner's manual or call us and we will look it up for you. We will help you find the correct oil for your car and for the temperatures in the Sheffield, AL area.
What Is The Difference Between Regular Oil And Synthetic Oil? Regular oil and synthetic oil are very similar and accomplish the same thing inside your engine. Regular oil will break down faster than the manufactured processed synthetic oil. Commercial Synthetic oil from Standard Oil Company has been around since 1929 but it took a while to catch on. This synthetic oil has proven to be more consistent and last longer over time than the petroleum based regular oil. Regular oil also called conventional oil can be thinker when cold and thinner when warm. Consumer Reports: Should You Use Synthetic Oil in Your Car? Synthetic oils for your car will cost more, but they will last longer and may offer more engine protection. What do you think, do you prefer regular oil and synthetic oil?
Express Oil Changes at Greenway KIA of the Shoals We are located in  Sheffield, Alabama, it  is a city in Colbert County with a population of about 9,000 people and an area of about 6.4 square miles.  Stop by anytime with any questions about changing the oil or having the correct oil for your car, truck or SUV. If you are near Sheffield, AL 35660 and need a fast 5-star oil change you may call our oil change service team at (256) 978-1000 to set up an oil change or visit this link to schedule an oil change online.
Oil Change Service in Sheffield, AL | Greenway KIA of the Shoals | Best Synthetic Oil Change near Sheffield, AL