Best Tire Shop Sheffield AL 35660
Express Tire Service Center Pros Greenway Kia Sheffield, AL. Tire Sale Buy 3 Tires Get 4th Tire for $1. Tire Repairs, Wheel Repairs, Truck & SUV Tires.


Why Does My Tire Pressure Light Come On When It Is Cold Outside?
It's the first cold morning of the fall and you get and your call and to your dismay a warning light is on your dash. The tire pressure light is on. Don't worry, most likely it's not a nail. Unless of course you commute regularly through construction zones. No, the temperature has dropped for the first time of the cold season. That tire light is on because cold air is denser than warm air. For every ten degree drop in temperature your tires lose 1 to 2 pounds of pressure. This is nothing to worry about. Check your owner's manual or the label on the inside of the drivers door for the tire's optimal psi. Then run over to a gas station with an air compressor, fill those tires up, and you're set. If you have any questions about tires in the Sheffield Alabama area we are here to help. Why Should I Rotate My Tires? Greenway KIA Tire Center – (256) 978-1000.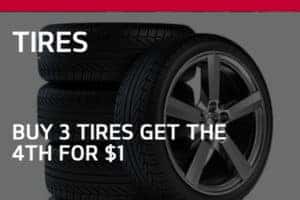 Why Should I Get Nitrogen Filled Tires?
Compressed air already has nitrogen in it, this is the normal air we breath. When you get nitrogen "filled" tires you are filling more of the tire with nitrogen. Nitrogen is more stable as a gas against changing temperature. Reason being, compressed air has moisture, as nitrogen is more dry. Nitrogen molecules are also larger than oxygen molecules, and are not able to seep out as easily and escape from the tire. Do you have questions about filling your tires with nitrogen? Give our tire service center a call we will be glad to help you. Learn More: What Do Tire Numbers Mean?
New Tire Shop | Tire Coupons | Greenway Kia of the Shoals – 4109 N Jackson Hwy, Sheffield, AL 35660 –  (256) 978-1000 | Truck Tire Shop | Truck Tire Center | Tire Repair | Wheel Repair | Off Road Tires